Kitchen Designs Sydney

Illustrated below is a range of images, that we have within our showroom, detailing different kitchen designs, surfaces and many more features. If there is something that you would like more information on, then please give us a call.
Sydney Kitchen Designs
You should find a professional designer who can help you with the Sydney kitchen designs. They are more experienced and he can come up with original solutions that you will never think about.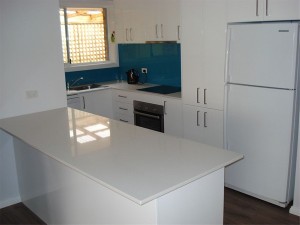 Here's what you have to know about kitchen designs Sydney:
#1: It's better to work with a kitchen designer than to do everything yourself.
A good kitchen designer has many years of experience in choosing kitchen designs and coming up with design ideas and suggestions. It's a much safer bet. Designing a kitchen is not that easy as many people believe.
#2: A kitchen designer with 30 years of experience can do magic with your kitchen.
Such a designer is more expensive but the value of his work far surpasses the fee you pay him. Just imagine how much time it would take you to get to his level. It's a much better choice to buy his expertise.
#3: A few well done Sydney kitchen designs will differentiate you from everyone else.
You will be noticed and people will talk about you and your kitchen. Some will do it out of envy. Others will do it because they truly appreciate what you've done in terms of design with your kitchen.
#4: Get inspired by the Sydney kitchen designs that you can find on the internet.
The internet is a huge virtual place where you can find all kind of things. You can also find some of the best kitchen designs in the world. You just need to use a free service like Google Images and get a little creative about the search terms you use. Collect a few kitchen designs that you like from the internet and show your professional designer what you enjoy. This will give him a better idea of what you want.
#5: Choose among many kitchen designs and don't choose something that is completely different from the rest of your house or apartment.
Your kitchen should blend into the environment. In this case, the environment is your home. Don't choose kitchen designs that are completely different from the rest of your home unless you want to redesign the other rooms as well.
#6: Kitchen lighting matters.
When it comes to designing their kitchen, most people focus just on the floor and furniture. The kitchen will not be used only when it's sunny outside. It will also be used for preparing dinner or during winter when the days are shorter. This is why the kitchen lighting matters as well. First, you should choose the designs for the furniture and floor. Put them in your kitchen and then choose the kitchen lighting.
#7: Make sure you don't pick too many colors.
Most people have the tendency of choosing too many colors. They try too hard because they want their designs to look amazing. The best designs out there have a maximum of three colors with different shades of the same three colors. Too many colors overload the senses and repel people. Your kitchen is the place where you eat and prepare the food. So it needs to be attractive enough for you to enjoy spending a lot of time in it.
Kitchen Designs
The above ideas about Sydney kitchen designs will help you choose the right designs for your kitchen. Remember to hire a professional that will provide plenty of kitchen designs Sydney for you. Go right now, choose a kitchen design and start the process of upgrading your kitchen.